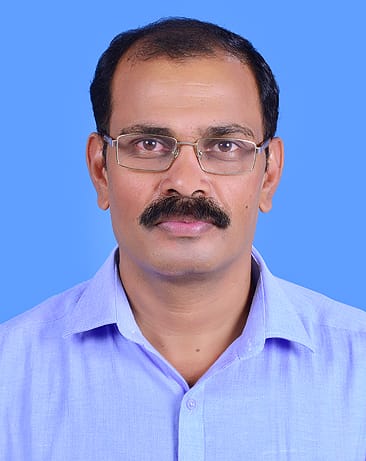 Dr Maria Martin Joseph, Principal and Research Guide, did his PhD in Kannur University, MPE and BPE from LNCPE Gwalior, in Jiwaji University.
Joined the college as Lecturer in Physical Education on 25 August 1995
Formerly, he was the Physical Training Instructor in Tolani College of Commerce, Mumbai, Athletics Training Faculty of BARC Mumbai, Basketball coach of JNPT, Nav Seva, Mumbai.
Research papers have been published in Indian and foreign academic journals. He has two UGC Minor Research project done.
Formerly a member of PG Board of Studies of the University of Calicut and UG & PG (combined) Board of Studies of Kannur University.
Formerly Additional Chief Superintendent in the University Examinations and presently appointed as a member of inspection Squad for the Kannur University Examinations
Formerly, the college level Nodal officer for the RUSA and the college level nodal officer for All India Survey of Higher Education, Ministry of Human Resource Development (MHRD).
Organised a National Workshop on Research Methods and Data Analysis with Statistical Packages, a Workshop for teachers on Enhancing the Effectiveness of Teaching and a Workshop for students on Academic Enrichment
Organised state level workshop on Competence building in office administration for office staff
Member of the Doctoral Committee in Physical Education, Kannur University and formerly member of the Academic Council of Kannur University
Approved Research Guide of Kannur University. Has six students pursuing research for Ph D Degree
Co-ordinator of NAAC 2005 for the first Accreditation of our college and the college was accredited with B++ 83.5 in 2006. First Co-ordinator of Internal Quality Assurance Cell of the College. Now the IQAC Co-ordinator during the III Cycle of Accreditation
Member of the Governing Body of the College, Mananthavady since 2005
Areas of specialization include coaching and officiating in basketball, cricket, badminton and athletics. Interested in exercise physiology and sports infrastructure development.
Consultant on NAAC accreditation, UGC project preparations, sports infrastructural development, officiating, sports management and organizing of sports and games.
Executive member of Diana Sports and Arts Club, Mananthavady, President of Sunnex Cricket Club, Mananthavady, Vice President of Wayanad District Judo Association, and former Vice President of Wayanad District Basketball Association.
---