Patron's Message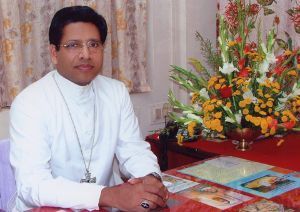 Mary Matha Arts & Science College is one of the prestigious institutions of the Catholic Diocese of Mananthavady.
The College is a material form of the Diocese's vision of education as a tool of social construction and empowerment. Situated at the fringes of serene and enchanting natural forests, this Saraswati Kshethra provides quality facilities for higher education to the young minds of Wayanad irrespective of gender, caste, creed or religion.
The people of Wayanad, especially the laity of the Diocese of Mananthavady, have always stood by the Diocese in its efforts to build and nurture this institution as an archive and disseminator of higher learning. The efficient Management, the dedicated Principal and staff, and the diligent students are always committed to fulfilling the vision of the founding fathers. The liberative mission of Jesus Christ is the beacon that guides this institution in its journey towards excellence.
His Excellency Rt. Rev. Dr. Jose Porunnedom

Bishop of the Catholic Diocese of Mananthavady